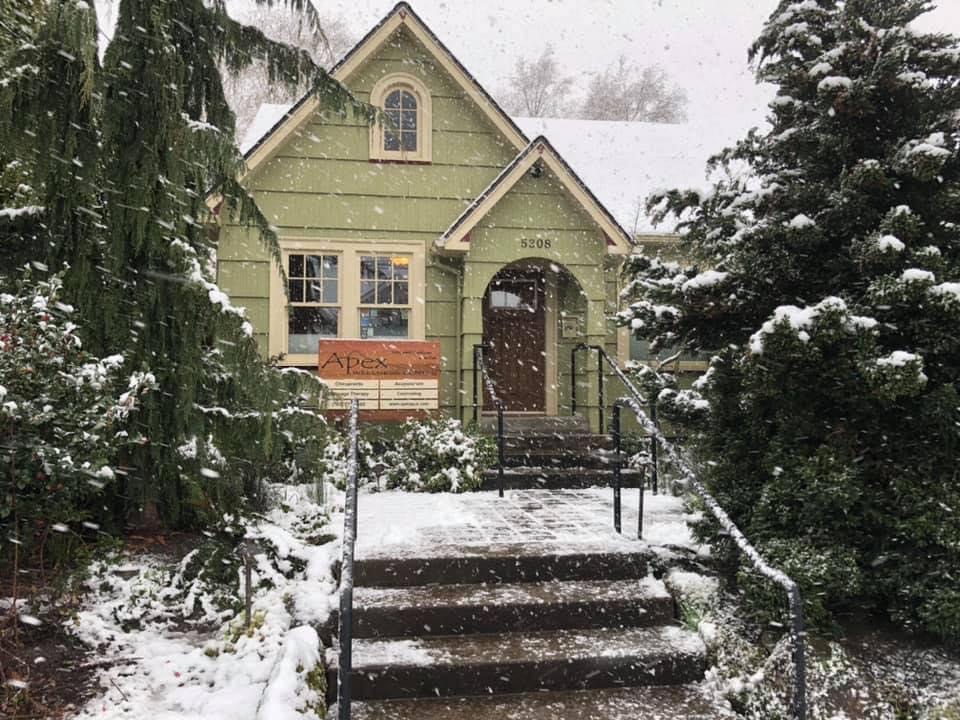 Hello Patients, Friends, and Neighbors,
Apex Wellness Center is celebrating our 10 year anniversary on July 23rd. Due to COVID-19 restrictions we will not be having the open house block party celebration we were dreaming of.
That said we are still planning on having some fun and would like to celebrate with you.
Gifts to you
Starting this Thursday July 23rd we will have "party favors" to hand out. The clinic back yard will have Black Lives Matter yard signs to share, please feel free to pick one up and display it proudly. We are thankful for our diverse and accepting community.
Virtual Raffle
We are holding a virtual raffle with several winners. Prizes include: Massage, Acupuncture, Chiropractic,foam rollers and chiropractic pillows too!
To enter the raffle we ask that you submit a statement of gratitude, which could include what you love about Apex Wellness Center, the Foster Powell neighborhood, or anything else you appreciate. We will make a big birthday card with the statements and have it for display in the office.
To enter please email your statement of gratitude to reception@apexpdx.com use "Gratitude" in the subject line.
**Raffle will be held on Aug 1st**
Statements of Gratitude from staff:
I appreciate the friendly atmosphere among staff and clientele. I love watching as my patients get out of pain also adopt healthy habits to help keep them more functional. Patient interactions help give me life and I want you all to know that you are wonderful people.- Rebecca Schacker, DC
As a healthcare provider at Apex I am grateful to be able to work with such a kind, talented, and dedicated team of folks who are deeply committed to the health and well-being of our community.- Liberty Karp, LCSW
I am deeply grateful to be a part of the Apex Wellness Center care team.  I love the welcoming environment and so appreciate all the friendly and kind patients that walk through our door.  I feel honored every day to do this work and am grateful to be a part of bringing health and wellness to those in need.  – Mary Jean Brinkman LAc
I am grateful for the sense of community that has arisen during this time of physical distancing, the creative efforts that community has made to connect in what ways we can has been heart warming. I feel a new closeness even with the strangers in my own city, as though we are all on the same team, and as teammates, we find something in common to bond over. Despite the physical distancing, I feel a new camaraderie among my fellow human beings. -Phoenx Liu, LMT
There are many things in my day that I can find to be grateful for, what has stood out to me recently is how much I really enjoy our Foster Powell neighborhood. Being able to walk to get groceries, ride my bike to work here at Apex, and walk around and see wonderful art has been such a blessing these last few months. – Allison V., Reception
Statement from Rebecca Schacker, DC
I am Rebecca Schacker, DC and owner of Apex Wellness Center. In July of 2009 I stepped out on a dream and purchased a run-down residential house, spent a year remodeling and on July 23rd 2010 we opened for business as a multidisciplinary clinic. I feel thoroughly blessed working at Apex Wellness Center for the last 10 years! I moved to the Foster Powell neighborhood a few years before to begin the next episode of my life, including starting my family. I am grateful I am able to work within walking distance of where I live.
Closing down the clinic at the start of the pandemic was difficult on many levels, most significantly that I was not able to help out my patients. I still believe temporarily closing was the right action to take at the time to keep everyone safe. I feel like our new protocols will keep us all safe in the future so that we can maintain services for our patients, even as this pandemic situation is taking a turn for the worse.  Rest assured that safety is always our primary concern.
I thank you all for choosing Apex Wellness Center for your healthcare services!