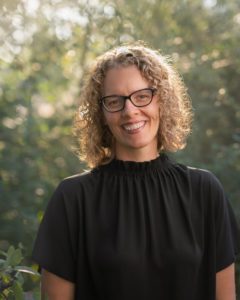 Mary Jean Brinkman runs her own practice, Green Lotus Acupuncture, on site. She attended the Oregon College of Oriental Medicine and is a certified Qigong instructor through the Ling Gui International Healing Qigong School. Mary Jean also completed advanced clinical work at the Nanjing University of Traditional Medicine in Nanjing, China and has completed advanced clinical study in the Shen-Hammer Pulse Diagnosis system, NAET, Sports Acupuncture and Kiiko Matsumoto/Nagano Style Acupuncture. Mary Jean currently sits on the board as Vice President for her professional organization, the Oregon Association of Acupuncturists (OAA).
Mary Jean believes everyone's path to wellness is unique, and she works with clients' individual needs to help set them on a path to whole body wellness. She specializes in the treatment of acute and chronic pain; motor vehicle and sports injuries, allergy elimination, mental/emotional issues such as stress, anxiety and depression; digestive complaints; insomnia and other sleep disturbances; headaches; women's health related complaints, fatigue and so much more. She also believes in the healing power of food and lifestyle modifications, and provides nutrition and lifestyle coaching as well.
Insurance
First Choice Health
Health Net
Kaiser (CHP)
Moda/ODS
Pacific Source
Providence Health Plans
Regence – Blue Cross Blue Shield
United Healthcare
What Patients Say
Mary Jean is a wonderful healer, good listener and compassionate person devoted to continual growth in her field.
- Acupuncture patient
I am so glad that I was recommended to Mary Jean - she really takes the time to listen and her treatments are wonderful and productive. I would recommend her without reservation.
- Feeling wonderful in Portland
Mary Jean Brinkman is a terrific acupuncturist and a careful, kind and knowledgable healer. She has helped me and I've only seen her twice. I look forward to my next visit! I can't say enough good things about her!
- Feeling cared for
Waves of relaxation. Mary Jean is incredible - I would recommend her without reservation. In addition to being top notch the environment is very clean and soothing. I look forward to my appointments.
- Relaxed in Portland
The Best Acupuncturist! MaryJean has a wholistic approach to her care. She truly cares about treating both body and mind. She has helped me manage chronic lower back/ hip pain as well stress/ anxiety. Her care has become part of my self care maintenance routine and it makes a huge difference in my overall well-being. I would recommend her highly.
- Joyful acupuncture patient