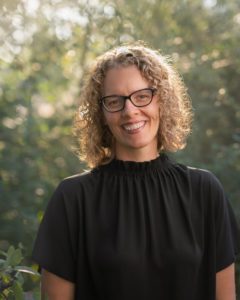 Mary Jean Brinkman runs her own practice, Green Lotus Acupuncture, on site. She attended the Oregon College of Oriental Medicine and is a certified Qigong instructor through the Ling Gui International Healing Qigong School. Mary Jean also completed advanced clinical work at the Nanjing University of Traditional Medicine in Nanjing, China and has completed advanced clinical study in the Shen-Hammer Pulse Diagnosis system, NAET (Nambudripad's Allergy Elimination Techniques), Sports Acupuncture and Kiiko Matsumoto/Nagano Style Acupuncture. In addition, Mary Jean served six years on the board for her professional organization, the Oregon Association of Acupuncturists (OAA).
Mary Jean believes everyone's path to wellness is unique, and she works with clients' individual needs to help set them on a path to whole body wellness. She specializes in the treatment of acute and chronic pain; motor vehicle and sports injuries, allergy elimination, mental/emotional issues such as stress, anxiety and depression; digestive complaints; insomnia and other sleep disturbances; headaches; women's health related complaints, fatigue and so much more. She also believes in the healing power of food and lifestyle modifications, and provides nutrition and lifestyle coaching as well.
Mary Jean finds joy in travel, the outdoors, spending time with friends and her husband and curling up with a good book.
Insurance
First Choice Health
Health Net
Kaiser (CHP)
Moda/ODS
Pacific Source
Providence Health Plans
Regence – Blue Cross Blue Shield
United Healthcare
What Patients Say
Mary Jean is a wonderful healer, good listener and compassionate person devoted to continual growth in her field.
- Acupuncture patient
I am so glad that I was recommended to Mary Jean - she really takes the time to listen and her treatments are wonderful and productive. I would recommend her without reservation.
- Feeling wonderful in Portland
Enormous gains in treating chronic pain! Mary Jean has been treating me for 6 to 7 months now and has provided enormous insight into some of the things that have been chronic problems for me for nearly 18 years. I have found relief and have faith that she and I working together will continue to improve my overall quality of health.
- Feeling better in Portland
Warm, empathetic, professional service from start to finish. Very grateful for my time with Mary Jean. She was incredibly informative and helpful beyond just my acupuncture. The feel of the space is great as well.
- Grateful in Foster Powell
Chronic Pain All But Gone! I have been receiving acupuncture from Mary Jean to treat chronic neck pain I have suffered with for over 6 years. I am so happy to report that I am having days with very little pain! I am thrilled at the progress we have made and for the first time in YEARS I feel hopeful that I can get to a place where I am pain free. What a gift. Mary Jean is so knowledgeable, thorough, and easy to work with. I am so thankful for her and the energy she has put in to helping me heal!
- Pain free in Foster Powell