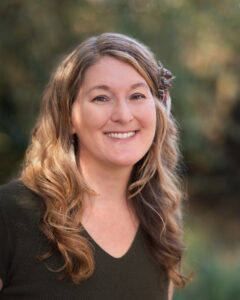 Nearly 30 years ago, Dr. Charisse Squires began her journey into the world of natural medicine and healing. Primarily, she was interested in how diet plays a role in our health, and how she could use that information to enhance her own health, as well as others. Since that time, Charisse has delved into studying nutrition, exercise, mind/body connection, herbal medicine, supplement therapy, and Chinese medicine. With a broad array of interests, she decided it was time to take on one of these wonderful modalities as a full time profession.
In 2000, Charisse was introduced to Chinese medicine through acupuncture and herbal medicine. Like many people, she knew very little about acupuncture and was skeptical of its efficacy. After her first treatment, she noticed a significant reduction in stress, which was her primary motivation to seek regular treatments. Since then she has found success using acupuncture and Chinese medicine to improve her own health issues, which have included kidney stones, stress, pain, seasonal colds, fatigue, and heart disease.
In 2010, Charisse began her academic journey acquiring a Bachelor's of Science in Psychology, a Master's of Acupuncture and Chinese medicine (MAcOM), and a Doctorate of Acupuncture and Chinese Medicine (DACM). She is continually reading current research and studying acupuncture techniques as a means to expand her knowledge and better serve her patients. In addition to her academic training, she is also a certified Reiki Master (over twenty years experience), a Shamanic practitioner (over ten years experience), and is trained in Shiatsu massage.
She is nationally certified to prescribe Chinese herbal medicine, and owns a medicinary complete with bulk herbs, granules, tinctures, pills, and supplements. Charisse offers herbal consults separately for those who are uninterested in acupuncture.
As a Chinese medicine practitioner, Charisse enjoys treating a wide variety of conditions and patients. She considers herself to have a gentle touch, and is compassionate with those who feel intimidated by needles. She also offers stronger techniques for those who are more interested in trigger point therapy. Charisse has studied many healing techniques, and is committed to finding the right modalities for her patients.
While she enjoys treating all conditions, she has a particular affinity for practicing internal medicine, which includes digestive issues, urinary system dysfunctions, cardiac problems, women's health, hormone imbalances, allergies, autoimmune disorders, dietary and lifestyle support. She enjoys helping her patients reduce and/or eliminate their pain through a variety of modalities that include acupuncture, cupping, massage, herbal medicine, and electro-acupuncture. As a former athlete, she understands how disabling it can feel when your body is in pain, especially from injuries. She is motivated to help you heal quickly so you can get you back to the activities you love.
When she is not practicing or studying medicine, Charisse enjoys the gifts the Pacific Northwest has to offer, including camping, hiking, surfing, gardening, as well as spending time with her friends and her sweet dog. She is looking forward to helping you on your journey toward good health and well-being!
What is Reiki?
Reiki originates from Japan, and is a healing technique performed through 'laying on hands'. The goal of Reiki is to connect with the life force that flows through all living things, which can assist with healing, relaxation, and stress reduction. The word Reiki roughly translates to 'God's wisdom/higher power' and 'life force energy'.
A Reiki master is able to connect with this energy and give it to another person. The focus of Reiki is to treat the emotional and spiritual body as well as the physical body. Many patients report positive changes in their emotional well-being, and as such, it can be an additional form of healing for those struggling with depression, anxiety, and stress.*
As an acupuncturist, Charisse has found Reiki can be a wonderful addition to acupuncture treatments. In combination treatments, patients will receive a full acupuncture treatment, with the addition of receiving 15 minutes of Reiki while resting with the needles. Reiki is not covered by insurance but can be added to your treatment for an additional fee.
Please contact Charisse directly if you are interested in scheduling a Reiki session with her.
*Reiki is not intended to be a substitute for seeking care through a professional mental health provider. If you are struggling with mental health issues, please contact your physician and/or mental health therapist.